Past Events At The Waterfront
August 30th &amp 31st: 2World, a local 2-piece acoustic band, performed some favourite covers as well as some of their original material LIVE on Saturday afternoon. The following day, on Sunday, Raystede animal welfare charity came down with some lovely pooches in need of rehoming and introduced them to vistors at The Waterfront.
July 27th: Yellow Rose Duo performed some classic country music along with unique live vocals this weekend. The ladies thoroughly entertained their audience from start to finish from their First Floor 'stage'.
June 28th & 29th: We had an amazing Pirate weekend at The Waterfront! The sun was shining across both days and loads of families came down in their piratey finery to hang out with Jack Sparrow, take a free ride on our 'pirate ship' and wage sea wars in our bouncy castle. Check out the videos below of our Pirate Entertainers playing some swashbuckling games!
June 21st: The Eastbourne Fishermen, based at The Waterfront, started their Saturday morning Fresh Fish Stall this weekend. We're delighted to be able to help them sell their fresh local produce, don't worry if you missed it, this event is on every Saturday morning throughout Summer.
June 14th & 15th: This weekend saw some amazing demonstrations from the Sea Gypsy Belly Dancers and the Brighton Circus Fire Dancer. Sadly we only managed to get a video of the Belly Dancers, but the Fire Dancer was just as brilliant!
June 7th & 8th: We welcomed Toy Story heroes Buzz and Woody down to The Waterfront this weekend. The kids loved them and some even came dressed up as their favourite characters!
May 17th & 18th: This amazingly warm and sunny Spring weekend saw a huge influx of visitors to The Waterfront. To entertain them on their visit we hosted a 2-day Art Show and the brilliant Surgeons of Swing performed for us on the Sunday afternoon.
May 3rd & 4th: The Waterfront welcomed the wonderful Animal Magic with their Birds of Prey. Our events organiser, Jessica, captured a selection of lovely photos of the birds and some future bird handlers throughout the day. See if you can spot yourself or someone you know in our Photo Gallery on Facebook, and while you're there, why not Like our page if you don't already!
April 19th: The Heart Angels came to The Waterfront on Easter Saturday and set up a really fun Easter Egg hunt! You can view all the photos from the day at the Heart Radio Website.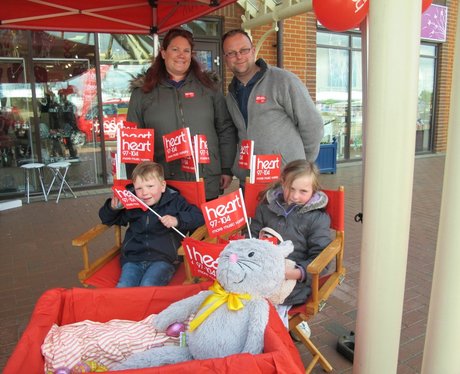 April 12th: Things got a little raucous on Saturday 12th April when the Rhythmfire Djembe Drummers paid a visit to The Waterfront. Here's just a snippet of their brilliant performance.
March 29th: On the last weekend of March Mickey & Minnie Mouse paid a visit to The Waterfront and said hello to lots of very excited little kids (and big kids!).